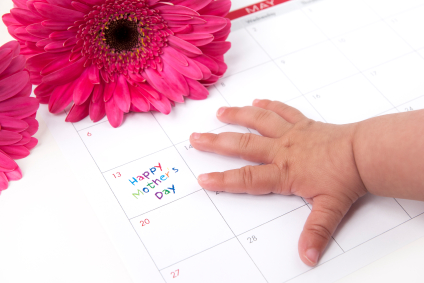 Mother's Day Countdown: For All of the "Mothers" in Your Life
If you're down to the Mother's Day gift buying wire, there's hope.  Options abound.  And, chances are good that your mom's not hard to please.   We're talking about the woman who still has your handprint/footprint paintings, clay pots, and potholders.  She "liked" you before Facebook.
Dispel the rumors that Mother's Day is a greeting card, florist, and shopping mall conspiracy.  Jump in, and bring a smile to your mom's face.  These ideas apply for gifts to all of the "Mothers" in your life.  Here are some Best Gift options:
1. Gift Basket
2. Personalized Photo Gifts (mugs, mouse pads, phone cases, photo books, canvas bags, ornaments, coasters, scarves, blankets, etc.) – a little late (will arrive 5 – 11 days after ordering).  Inform mom of upcoming surprise.
3. Flowers
4. E-Card or Snail Mail Card
6. Netflix
7. Cookies
8. Custom Made – collect gifts with your mom's interests in mind.  For example one gift might include a mani/pedi gift certificate, magazine that she might not ordinarily buy for herself, and chocolate.  Another mom might enjoy a canoe rental gift certificate and water bottle.  If your mom is a gardener, perhaps she would appreciate new garden gloves, a sun hat, and knee pad.  If your mom likes to explore, consider giving a certificate for a tour or ticket for transportation.  If you can provide expertise, such as auto repair, technical assistance, or design that she needs, perhaps you could offer assistance.
9. Tickets to a concert, play, or dance performance
10. TIME – best for last.  All your mom really wants is time with you and a hug.

Worst possible Mother's Day Gifts: anything that's relevant to the tasks that she might undertake for others, such as a mop or mixing bowl – unless she makes a specific request.  Also avoid giving anything that you would give to her to borrow – forgetaboutit.
Though your mom might have said, "No matter what, I'll always love you," use discretion when choosing a Mother's Day gift.  Worst case scenario; make her a handprint/footprint painting, clay pot, or potholder.  Or, "thank you" will suffice.
Life is short.  Celebrate!