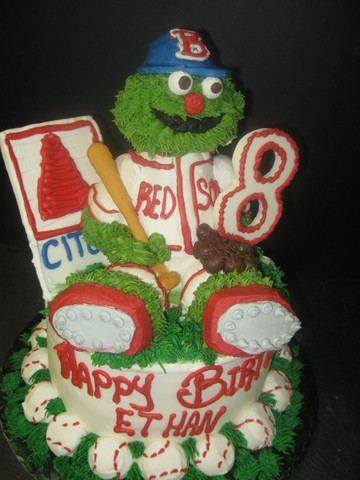 Cake by Party Favors
Kiss costly party rental rooms good-bye.  "Just say no" to the bounce house.  Bring birthday parties back home.  Children's birthday parties don't have to be elaborate, expensive, or the neighborhood party du jour.  Kids just want to have fun.
Out-of-house party expenses can be transferred into the college fund.  And, home party planning strengthens parent and child relationships.  Parents teach how to brainstorm, listen, respect limits, gain flexibility, and maintain a sense of humor.  Party planning is a "scrimmage" for future joint decision making.  When parents and children find a comfortable way to negotiate birthday party options, they're better prepared to discuss more challenging issues in-between birthdays.
Together decisions can be reached regarding the theme, food/cake, games, and favors.  Parents and children can discuss the sequence of events, expectations (i.e. saying thank you for each gift), and (if at least elementary school age) the guest list.
A good practice for preschoolers is to invite the number of children equal to the age of the birthday child plus one.  This eliminates potential chaotic "mosh pit" possibilities.
Invitations can be sent electronically or by snail mail to guests (or c/o parents of guests).  To avoid hurt feelings, do not deliver invitations at school in front of other children.  For an inclusive celebration ask the school if it's ok to arrange to bring a snack for the class in honor of the birthday child.
Numerous thoughtful ideas for birthday party themes, games, food options, favors, and decorations are included in two books, "The Penny Whistle Birthday Party Book," by Meredith Brokaw (Tom Brokaw's wife) and Annie Gilbar, and "The Penny Whistle Party Planner," by Meredith Brokaw and Annie Gilbar.  The Penny Whistle party books feature easy "business plans" for successful children's birthday parties.
Simple party tips learned from "The Penny Whistle Party Planner and first-hand experience:
1. Enlist helpers – friends, family, or other parents.  Tell them how they can help.  For example, "Please collect coats and hang them in the closet," or "Please help with the basketball throw by catching the ball after a child takes a shot, and throwing it back to the next player."
2. Include siblings.  Let them invite a friend.  If they're old enough they can help.
3. Keep the party short and tight.  One and a half to two hours is plenty.  Inform parents of the pick-up time.  Have more games planned than you need.  Create contingency plans.  If a game isn't getting "lift off," and kids are less than enthusiastic, go to the next idea.  If it's apparent that kids need a little free time without structure, follow their lead.
4. Keep activities age appropriate, and begin the party with low-key plans (including something for guests to do as they arrive).  Build to more energetic games in the middle of the party, and have a cool down phase at the end (perhaps serving food/cake).
5. Carry a whistle for possible difficulty getting guests' attention.  (I've used it once.)  Kids stop talking and listen.
6. Don't let a friend or relative dress in a three layer costume with a paper mache head (such as a Transformer outfit) in 90 degree weather.
7. Do not host two birthday parties in one day – especially if one is an afternoon backyard Pirate Party for 5 year-olds, followed that evening by a Murder Mystery Surprise Party for adults.
8. When hosting a Breakfast Bowl Soccer Birthday Party at 8:00 am serve breakfast and coffee to the parents.
9. If your child chooses to show SNL highlights at the party, preview it first.
10. Take photographs – lots!
Birthday parties are like athletic events.  Planning is necessary, and games are unpredictable.  Keep your eye on the ball.  The goal is celebrating a child's birthday.  Stay open to improvisational moments.  Often it's the unexpected situations that make a party memorable.
Let the good times roll!  Bounce back to an old fashioned birthday party.  Leap forward with fun.  Happy Birthday!
Life is short.  Celebrate!