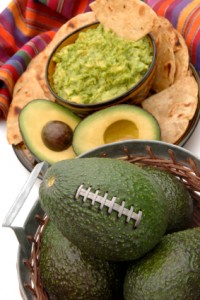 You don't have to be "the Boomer" (Chris Berman, ESPN Sportscaster) or an event planner to know that the Super Bowl calls for a Party. Scheduled on Sunday, February 3rd, you can invite friends and family to a casual dinner with built-in entertainment.  Since this is a casual party with established entertainment, party execution can be a piece of cake. However, like the football players competing on game day, avoid being over confident. Prepare.  Decide the basics of your party, and then consider what could possibly go wrong.  After considering the following pitfalls and ideas, you'll have a winning party.
 1.Avoid ordering day of game food delivery.  Getting a warm, crisp pizza delivered when you want it on Super Bowl Sunday is a risk. According to Statistics Brain, pizza deliveries are up by 35% on Super Bowl Sunday. Instead, buy food ahead, and warm when needed.
2.Assess how your TV Room accommodates your guests.  Your ratio of seats to guests might fall short. If so, make arrangements for comfortable seating and easy TV viewing. Consider adding chairs, floor pillows, or benches. However, if you find yourself renting bleachers, knocking down walls, or painting the room team colors, you might want to reassess.
3.Unless the party is in the kitchen, the kitchen is "out of bounds."  Serve maintenance free food. Serve hot foods in dishes that can be kept warm in crock pots or other safe warming containers. Have all food set up before guests arrive so you can enjoy the party.
4.Offer easy to eat food and hard to spill drinks.  Buffet "Tailgate" is the way to go.  Feature a variety of foods (keeping in mind food preferences and restrictions). Minimize spills and awkward eating moments by serving foods that are easy to eat, coupled with the appropriate dishes, silverware, and napkins.  Arrange drinks, glassware, ice, bottle openers, and drink garnishes in user friendly containers. Avoid serving drinks in poor quality plastic or paper cups that might have a tendency to spill.
Food Suggestions:  Appetizers are easy to make ahead.  Bruschetta, spreads, vegetables, and flatbreads are healthy and easy to eat. Main dishes that can be prepped before guests arrive include: sandwiches, cut-up pizzas, and chili.  For a New Orleans flavor try this easy to make ahead Jambalaya recipe.  Menus are only limited by your imagination.  See examples.  Guacamole becomes a football field. Cheese balls and cakes display team logos. And, as photographed in the "examples," some take the "Bowl" of "Super Bowl" literally – featuring a clean, new white porcelain toilet bowl for serving chips and dips. A conversation piece, but not recommended.
5.Some guests like the commercials; football not so much.  This year's Super Bowl Commercials ought to be spectacular. A 30 second spot sells for $4 million.  (That equals the price of …can't go there!) Non-football fans might appreciate a change of scenery in-between commercials. Before guests arrive set up a few board games, a deck of cards, and chairs in another room. If they or die hard football fans (in case of a questionable call) are curious about the rules of the game they can check, "The Essentials of Football Game Play."
6.Cleanup is a team sport.  Set garbage cans in strategic corners of the room. Have a recycle box for recyclables and a tray for used dishes, glassware, and cutlery. Or, you can ask guests to carry used dishes to a kitchen location.
The Super Bowl provides an opportunity to host a winning party. If you stick to your plan, you'll improve the likelihood of achieving your goal – no matter what team wins the Championship. Have fun anticipating and participating at your Super Bowl Party.  Stress less; enjoy more!
Life is short. Celebrate!